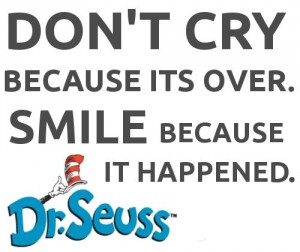 The last couple of days of the school year is naturally accompanied by many goodbyes and sometimes tears.  Last night, I had the honour of saying goodbye to our grade 8s as they begin a new chapter in their school lives. This afternoon, several goodbyes were shared amongst students and staff; some whom we will see again September and some who are moving on to new communities. Dr. Seuss (who can say the most powerful things using the simplest words) gives some great advice:
"Don't cry because it is over.  Smile because it happened."
Life is filled with many ups and some downs and school life is no different.  Our "ups" this year were countless and includes our school's focus on mathematics and inquiry which brought us to new and exciting places in our learning journey.  Innovation was an ongoing theme as we investigated new ways to collaborate, create and inspire.  Community continued to be a focus as we hosted the board wide launch of Education Week and raised thousands of dollars through our Annual Dinner and Silent Auction to support the students of Emily Stowe.  Of course there were some difficult times. We will always cherish memories of Abbygale Fleet, a schoolmate who passed away in January.  At times, students worked through conflicts and sometimes there were days where things did not always go as we had hoped. Hopefully even the difficult times helped us to learn something about ourselves.
As the school year comes to a close, I hope that as everyone reminisces about the 2014-2015 school year we will all heed Dr. Seuss' words and be smiling because it happened!!
Wishing you a wonderful summer and looking forward to September!!
Lisa Munro